November 6th, 2017 by admin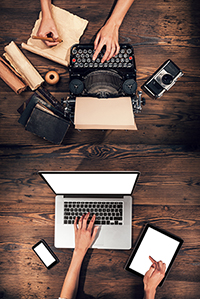 Your IT systems are running slower and slower. Your server room has layers of dust. Your phone calls keep dropping and your internet isn't reliable. If it's time to invest in some new technology, but it feels like you just replaced everything last year, then you may have fallen prey to one of the greatest risks of technology – obsolescence and cost of ownership.
Technology evolves fast, and traditional IT spending just isn't working anymore. Your business needs a solution that will keep your technology infrastructure humming happily along without large investments every few years. That's where our Technology Refresh Program comes in.
We offer a managed services model that counteracts the great risks of technology for a low monthly cost. With no upfront expenses, allowing you to stay focused on your business, The Connect Group provides unlimited technical support, unlimited programming changes, and unlimited training. We make it our mission to provide you with the latest hardware and software to support productivity and profits, putting you ahead of the competition.
Stop trying to scrape together the money for replacing your outdated system. Your business deserves better than an emergency patch on an old, unstable system and an expensive overhaul. With our Technology Refresh Program, you benefit from regular updates to your system, the latest technology, and a team of experts that cares about the success of your company. Learn more…
Posted in: Solutions