March 26th, 2018 by admin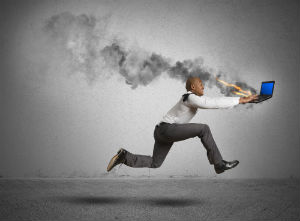 It's the middle of the workweek, your office is trucking along and working hard when all of the sudden there's a problem with your network that puts a stop to major operations. The longer you wait to get this issue resolved the further your employees are going to fall behind, costing you time and of course money! With The Connect Group, you no longer have to wait hours for a technician to show up onsite and work on your problems. We know how valuable your time is so as soon as our Help Desk gets your call we are going to triage your issue and get you up and running again in as little time as possible.
Our goal is always to reduce your downtime so we've implemented a streamlined process that includes getting you in contact with a technician that has specialized training in whatever your needs are in that moment. Your technician will then attempt to solve your issue remotely as best they can to get to back to work sooner and if more work is needed we can then dispatch a technician who can work onsite. We know how important technology is to your daily operations which is why we've designed our Service Philosophy around getting you technology assistance in as little time possible.
We are committed to our customers and to providing the best and quickest customer service possible so we ensure that you're kept informed every step of the way with our Five Point System, letting you know not only what we've done, but what our plan is going forward. We know that anytime you're using technology in your business there is the potential for something to go wrong, this is why we're here to help and make sure that your technology is working for you and not against you.
Contact us today for more information.
Posted in: Solutions